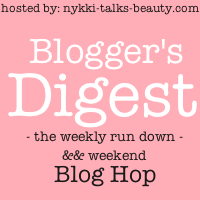 Hey my beautifuls :) how are you all doing OMG I can not believe its only 2 days to Christmas tomorrow night Santa is coming wahooooooo :)
So This is Bloggers Digest #2. If you do not know that bloggers digest is click here to see my first one
Thanks to Nykki from Nykki Talks Beauty who thought of this idea she is amazing I absolutely love the way she puts herself out there to help everyone in the blogging world and I absolutely love her blog. Check out her blog by clicking the picture above :)
The whole idea of this is absolutely genius. Every week I will post up a "Bloggers Digest" post which contains everything i have done on my blog that week and a little catch up chat in case you missed out on any of them :)
So lets get started shall we :)
So this week has been a CRAZY week. I started it off great with a blog post Monday and Tuesday then chores, shopping, last minute shopping, Santa and other things got in the way as they do !!!
The Santa Trip was Lovely. It was set up in a very old house dates back to the 11th Century :)
I thought it was a great Idea. It let people have a chance to have a look around as it really did feel like Santa's little grotto. The kiddies were so excited to see Santa as it really is only this year the twins understand Christmas. Santa arrived in a fire engine lol.
After about an hour and half of queuing and crying with no patience waiting for Santa we finally got to see him :)
Their faces say it all :) :)
That was the highlight of mine and their week the rest follows.
So with the busy week I had i only got two blog posts done which I feel so bad for because i missed blogging so much even during the week it felt like something was missing.
The First blog post I did was on
Catrice LE Hollywood's Fabulous 40ties
The most recent Limited Edition from Catrice which I was overall impressed with .
The second post this week was on the December Glossybox
This Glossybox has to have been one of the best boxes of the year. We got 3 full sized products which were all makeup products :) and 2 very good sized beauty products which I am loving :) Well done to glossybox as everyone seems happy with this months :)
I have already started my next review and today plan on getting it finished as I am not leaving the house lol
I hope you are all well and not too stressed with the coming few days. Relax and enjoy the end of this year and take a moment to remember the year that has pasted and be thankful you are all alive a well. Think of all of those who didnt make it to this years Christmas and say a little prayer for their families and friends. This is where I am extra grateful for having my family around me and that again this year I can enjoy yet another Christmas. i want to Thank you all for been so so supportive and leaving me such wonderful kind words it really does brighten up my day :) You are all amazing and Can I also welcome all my new readers you are all amazing too for clicking that follow button and I hope you enjoy my blog. I promise the New Year is going to bring even better blog posts :) Wishing you all a very Merry Christmas xxxxxxxx
Love you all
Lots of Love Luck and Laughter
I love love love hearing from you all :) I make it my duty to read each and every one of you comments and every time i get a comment from you it highlights my day thanks so so much to you all xxxxxxxxxxxxxxx